Yeryüzü Derneği Avrupa Patent Ofisine verilen  "Geleneksel Olarak Yetişmiş Olan Tohumlar ve Hayvanlar Patentlenemez" dilekçesine imza attı. Sayfada Derneğimizin adını görebilirsiniz:
Open letter to Enlarged Board of Appeal of the EPO
Stop the patenting of plants and animals derived from conventional breeding!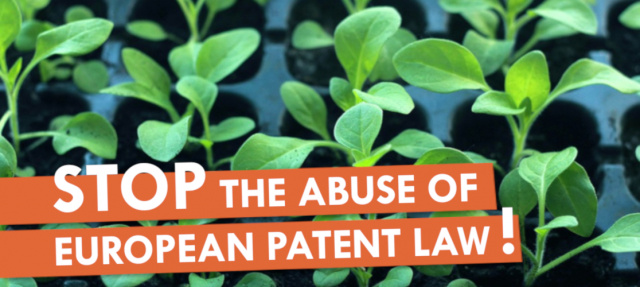 In March 2019, the President of the European Patent Office (EPO) raised two questions at the Enlarged Board of Appeal of the EPO concerning patents on plants and animals derived from conventional breeding. The Enlarged Board of Appeal will now deal with these questions. Until 1 October 2019 statements can be filed.  NO PATENTS ON SEEDS! filed a detailed legal argumentation on these questions.
If you want to support the demand to stop the patenting of plants and animals derived from conventional breeding, you can sign the open letter below online until 25 September 2019. Alternatively you can print the letter as a pdf (see below) and send it to "Keine Patente auf Saatgut!" / Frohschammerstraße 14 / 80807 Munich, Germany. The letters and the signatures will then be handed over to the EPO until 1 October 2019.
Organizations, who want to support the letter, are kindly asked to send an email to johanna.eckhardt@no-patents-on-seeds.org.
Detailed info about the questions to the Enlarged Board of Appeal can be found in the background document.
Re: Patentability of plants and animals (G03/19)

Dear Members of the Enlarged Board of Appeal

The two questions raised by the President of the European Patent Office (EPO) should be answered with YES for the following reasons:

Democratically legitimized political control of the correct interpretation of European patent law should not be undermined by EPO decision-making. In this case, the power of the Administrative Council, based on the support of all 38 contracting states, cannot simply be overruled by decisions taken by a technical body at the EPO.

Consequently, the European Patent Office has to make sure that all processes used in conventional breeding and all plants and animals derived thereof are not subject to any patent claims.

Genetic engineering enables direct technical interventions in the genome. This is profoundly different from conventional breeding which starts from and works with a high level of genetic diversity, using all kinds of variations and mutations through further crossing and selection.

Genetic diversity as used in conventional breeding may be derived from native traits, existing plant varieties or from induced random mutations. If patents are granted on processes of genetic engineering, such patents clearly have to be restricted to technical and targeted processes. Access to genetic material as well as plants and animals derived from conventional breeding should not be hampered by patents.

With kind regards
Signatory Organisations (list is continuously updated)
Arbeitsgemeinschaft bäuerliche Landwirtschaft e.V.
Arbeitsgemeinschaft der Umweltbeauftragten der Gliedkirchen der Evangelischen Kirchen in Deutschland
ARCHE NOAH – Gesellschaft für die Erhaltung der Kulturpflanzenvielfalt und ihre Entwicklung
Associación Vida Sana
BioForum Vlaanderen
Bio-Verband Erde & Saat
BUND Naturschutz
Compassion in World Farming
Coordination gegen BAYER-Gefahren
Corporate Europe Observatory
Danish Seed Savers
Die Freien Bäcker – Zeit für Verantwortung e.V.
FIAN Deutschland e.V.
Forschung und Züchtung Dotterfelderhof – LBS Dotterfelderhof e.V.
Four paws
Fundacji AgriNatura / Foundation AgriNatura for Agricultural Biodiversity
GAIA – Environmental Action and Intervention Group
Gen-ethical Network
Katholische Landvolk Bewegung Freiburg
Kein Patent auf Leben
ÖBV – Via Campesina Austria
OpenSourceSeeds
Oxfam
Pesticide Action Network UK
Plataforma Transgénicos Fora
ProSpecieRara
Public Eye
Sambucus e.V.
Sativa
Save our Seeds
Sinergia Animal
Społeczny Instytut Ekologiczny / Social Ecological Institute
SwissAid
Umweltinstitut München e.V.
Verband Katholisches Landvolk e.V.
Yeryuzu Dernegi / Earth Association
Zukunftsstiftung Landwirtschaft